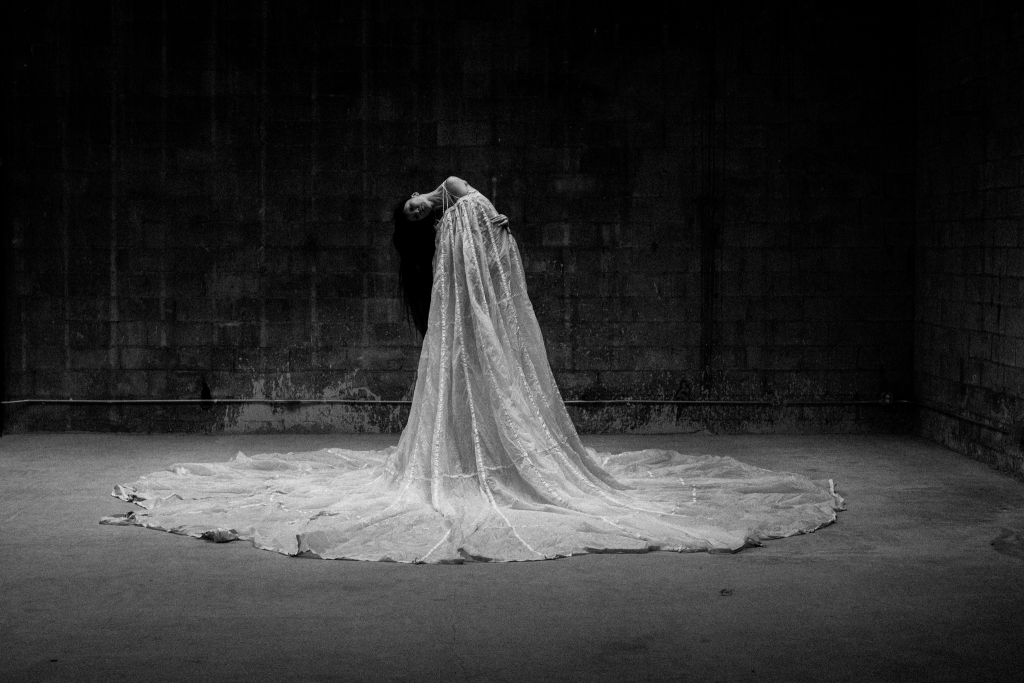 C/V
–
azumi O E
(Born in Kyoto, Japan. Lives and works in Brooklyn, NY)
azmmmmm@gmail.com
–
Biography

Azumi O E was born and raised in Kyoto, Japan. She is a former principal dancer of New York-based Butoh company Vangeline Theatre, where she has performed for over 8 years. She joined as an Assistant Choreographer/Principal Dancer for Butoh Master Katsura Kan, with whom she has completed several world tours.
Her solo work has been presented globally in cities such as New York, Baltimore, Boulder, Beijing, Moscow, St.Petersburg, Helsinki, San Miguel de Allende, Puebla, Stuttgart, Paris, Wroclow, Shinchu, Taipei and Kyoto.
Expanding from her Butoh career, she works as a Dancer/Choreographer for Video Sculpture Artist Katja Loher; has produced collaborative video art and live performance work for MARCK, a duo project with Bassist Sean Ali; and regularly collaborates on interactive tech/sound/stage-visual projects with the Tetsu Collective. Her newest project with Composer Takuya Nakamura which bringing her to work with various contemporary music. Her work also extends into the arenas of experimental film, music videos, and more…
Azumi is actively working on a wide range of collaborative, and solo projects.
Residencies
2016 Hungry Ghost Artist in Residence, Brooklyn, New York
2018 Flitzbach Artist in Residence, Switzerland
2019 Ideal Glass Artist in Residence, New York
2019 ACE Hotel Artist in Residence, New York

Press
"ORIGAMA" (Mexican contemporary art magazine) October 2011 /interview
"WARP" (Japanese Music, Fashion and Subculture magazine) March 2013 /interview
"J-Spectrum" November 2015 /interview
"Tabula Rasa" Magazine special edition volume II 2017
"ROYAL FLASH" Photography Magazine 2018/Photograph
"Jazz Right Now" Jazz online Magazine 2019 /Review
"New York Times" NewsPaper 2019 /Preview
"Wall Street Journal" NewsPaper 2019 /Review
Filmic Appearances
2019 – "FREEDOM TUNNEL" (Dance Film) Directed by Teerawat "KAGE" Mulvilai
2011 – "Character portrait" (Dance Film) Directed by Bleue Liverpool
2016 – "Unconscious" (Short Film) Directed By Nick Motyka in collaboration with AYAKAMAY
2017 – "SYNEMATIKA: The 3D Script" (Future Film), Directed by Michael Pope, Butoh Dancer
2017 – "Ghost_dance" (Short Film) Directed by James Carman, Butoh Dancer
2018 -"Aurora's Aura" (short film) Directed by Nick Motyka, Main Butoh dancer
*Selected by Japan New York Film Fest 2019, Tokyo Emerging Director Film Festival, 2019

Music Video Appearances
2009 – "When we go to war " Tobias Froberg, Directed by Petter Ringbom
2013 – "Belief" Man Made Sun, Directed by Dana DISTORTION Yavin
2014 – "beautiful 2 me" HEROEK, Directed by by John Shepard
2014 – "Fall in Love" Phantogram, Directed by Timothy Saccenti, Choreograph by Vangeline
2015 – "wing" Shahar Mintz, Directed by Haim Bargig
2016 – "?" Daniel Koren, Directed by Daniel Koren
2017- "SENATORS" Leverage Models, Directed by Shannon Fields

Performance History (Selected Works)
2019
"Cosmic Rhythm" collaboration with Composer and Pianist Takuya Nakamura , Laura Ortman (violin), Rebekah Heller (Bassoon), and 3D mapping stage-visualist Marton Gabor at National Sawdust, NY
"Impulsive Instrument 8.1" Never Before Never Again Festival Invited artist 3days Perfromance with Sean Ali (Bass) + Carlo Costa (Percussion) at Triskelion Arts, NY
"Second_Skin" Testu Collective Collaboration with Serena Stucke and Dan Tesene, 6 live performances at On Canal, NY
"New Music for MIDI-Controlled Pipe Organ", Duo Performance with Takuya Nakamura at San Damiano Mission, NY
"Impulsive instrument 7.6" Duo with Sean Ali (Bass) at De-Construkt , NY
"Braided SOUND" Butoh performance with Jesse Perlstein (vox, field recordings) + Jeremy Young (oscillators, piezo'd objects)+ Cheryl L. Kingan (saxophone) +Benedict Kupstas (Guitar) at Microscope Gallery, NY
"Gravity" Collaboration with Sophie Kahn, with Sindy Butz + Chris Calorine at Pioneer Works, NY
"Sonara" installation Performance in collaboration with Aforest Dark Performed with Sindy Butz + Will Atlkins + Stacy Smith, NY
"Impulsive instrument 7.7" Duo with Sean Ali (Bass) at The Bauman, NY
"Garden Circus" installation Performance collaboration with Aforest Dark Performed with Sindy Butz, Private House, NY
"Impulsive instrument 7.7" Duo with Sean Ali (Bass) at The Atrium, NY
"S.A.K.U.R.A" Butoh Performance with Twisty at Brooklyn Cherry Blossom Festival, NY
"Ephemeral Collusion V.1" Butoh Performance with Sugar Life at Ideal Glass, NY
"Ephemeral Collusion V.2" Performance with Sindy Butz in collaboration with artist Jan Ray at The Atrium, NY
"Ephemeral Collusion V.3" in collaboration with BraidedSOUND at The Atrium, NY
"Ephemeral Collusion V.4" in collaboration with Yuka Yamamoto (Vox) + Shanir Ezra Blumenkranz (Bass) at The Atrium, NY
"Cosmic Rhythm" Duo with Takuya Nakamura (piano, OP1) at Ideal Glass, NY
"Trio" Collaboration with Tania Chen (object) + Joe Moffet (Trumpet) at ARÈTE, NY
"impulsive instrument" New Experience series by Jazz Right Now at the Hart Bar, NY
"Cosmic rhythm" Takuya Nakamura (composer), Doug Wieselman (multi-instruments), Dan Rieser (Drums), Stage Visual Marton Daniel Gabor at National Sawdust, NY
"Dreamland" Testu Collective Collaboration with Serena Stucke + Dan Tesene 6 performances at The Atrium, NY
"BLaCCk" with Yalled Zaiin danced with Margherita Tisato at Mercury Lounge, NY
"De-Noi se" with Mickey (noise) at Baltimore City Hall, MD
"NOWHERE" Solo Butoh Performance at Catalyst Contemporary Gallery Baltimore, MD
"N 2 M U" Ratscape festival with Lizzie Meredith (violin) at The Clown Baltimore, MD
"Tale of infinity mirror" co-directed with artist Uta Bekaia for Ace Hotel artist in Residence at Ace Hotel, NY
"Micro micro" with Maki Shinagawa (butoh) + Jesse perlsten (vox, tape) + Tania Chen (object) at Synaesthesia, NY
"Impulsive instrument 7.8" Women Between Arts Curated by Luisa Muhr, Trio Sean Ali (Bass) + Carlo Costa (Percussion) Glass Box Theater The New School, NY
2018
"Impulsive instrument 7.3" Duo with Sean Ali (Bass) at Brackish, NY
"Aforestdark" solo installation performance for Traumland at 55 Christie, NY
"Honey's Tuesday" with Twisty Bon Bon (Bass and synth+Stage visual) at 4533 Studio, NY
"Impulsive instrument 7.5" Duo with Sean Ali (Bass)at De- construkt, NY
"SILENCIO" solo Butoh performance at Spectrum, NY
"Impulsive instrument 7.2" Duo performance, with Sean Ali at Queen Museum, NY
"cOSMIc RhYThM" with Takuya Nakamura (piano) and Martin Gabor (Live visual) at Mirror in wood, NY
"Aurora's Aura" Main Dance Cast on a short film directed by Nick Motyka
"Vestiphobia III" collaboration with Willard Morgan at Ideal Glass Studio, NY
"Work from the world" collaboration with Sean Ali at Spectrum, NY
"NOCTURNAL SUBMISSIONS" Butoh performance with an interactive sound device with live surround architecture with composer Dan Brantigan and Garth Stevenson at American Medium Gallery, NY
"cOSMIc RhYThM" Butoh performance In collaboration with composer/Pianist TAKUYA NAKAMURA and 3D mapping stage visualist Marton Gabor at Cafe Capri, NY
"untitled" Solo Butoh performance at Spectrum, NY
2017
"Sonic_Swimmer 1.2" Solo butoh performance for The record release My Tongue Crumbles After, released on Neither/Nor Records at The Fridman Gallery Soho, NY
"captive_trainreck" durational performance, collaboration with Perv Collective AYAKAMAY and Tim O'keefe at the Lodge Gallery, NY
"Impulsive Instrument #6" Collaboration with Sean Ali (bass, Cassette) HOME AUDIO, NY
"Wake Up Smells The Coffee" Directed by Vangeline Theater at Triskelion Art, NY
"Voice to Void" Collaboration with Charmaine Lee (Vocal artist) at Gallery 456 Soho, NY
"OIOIooo" performance art, with AYAKAMAY for opening for Fables of the Reconstruction exhibition at David & Schweitzer Contemporary Gallery, NY
"Hotel KAMIKAZE" performance art, directed by AYAKAMAY at David & Schweitzer Contemporary Gallery, NY
"….resurrection" Solo performance at HappyLuckey no.1 Gallery, NY
"impulsive instrument #5.01" collaboration with Sean Ali at DE_NihilisM_, Presented by Vilma PeDiu as part of "Wall Anarchists" series, Rockwall Studio, NY
"Earth Tomes" Directed by Joan Laage (Kogut Butoh) at Kattsbaan International Dance Center
"WOLFLOW" solo performance for LPR presents opening Yuca C. Honda (Eucademix) and Corey King EP release 'Can't Remember The Name' Nublu, NY
"That one" Collaboration with Melissa Lohman (dancer) and Brendan Burke (percussion) at HappyLucky no.1 Gallery, NY
"Majun Party" Collaboration with Melissa Lohman (dancer) and Sean AliN
"Aurora's Aura" Main Dance Cast on a short film directed by Nick Motyka
"Vestiphobia III" collaboration with Willard Morgan at Ideal Glass Studio, NY
"Work from the world" collaboration with Sean Ali at Spectrum, NY
"NOCTURNAL SUBMISSIONS" Butoh performance with an interactive sound device with live surround architecture with composer Dan Brantigan and Garth Stevenson at American Medium Gallery, NY
"cOSMIc RhYThM" Butoh performance In collaboration with composer/Pianist TAKUYA NAKAMURA and 3D mapping stage visualist Marton Gabor at Cafe Capri, NY
"untitled" Solo Butoh performance at Spectrum, NY
"….resurrection" Solo performance at Red and Black Masquerade Ball, Sunnyville, NY
2016
"Vestphobia" in Collaboration with Uta Brkaia at Ideal Glass, NY
"Senryu Butoh" as a part of KYOTO experiment fringe festival Directed by Katsura Kan, Urbanguild, Kyoto Japan
"What is the DANCE? " as a part of KYOTO experiment fringe festival Directed by Katsura Kan, Urbanguild, Kyoto Japan
"If You Lived Here You Would Be Home Now" Durational installation Performance in Collaboration with Levan Mindiashvili & Uta Bekaia at "UNINTENDED ARCHEOLOGY" exhibition at The Lodge Gallery, NY
"HOME AUDIO" in collaboration with Surround sound architect Dan Brantigan, 1027 Grand Brooklyn, NY
"ON/OFF" Live Sculpture performance for MARCK at VIP preview in art New York presented by LICHT FELD Gallery, NY
"OUTBREAK" Opening solo performance at Galerie Von Braunberens Solo exhibition by MARCK video-sculpture, Stuttgart, Germany
"Night of 1000 Stevies" with Puppet Basil Twist, Directed by Vangeline Theater at Irving Plaza, NY
"Echo of Hiroshima" Performance art, Directed by Ayakamay at CONEY ISLAND THING produced by Sei Smith, Luna Park, NY
"Untitled" Butoh installation Directed by Vangeline Theater at Princeton University, NJ
"Wake Up Smell The Coffee" Directed by Vangeline Theater at the Creative Climate Awards at Taipei Cultural Center, NY
"Transparent Swimmer" solo butoh performance in collaboration with Singer Yuka Yamamoto for the Revolting Grace & Execution at The Spectrum, NY
"Impulsive Instrument #5" In collaboration with Sean Ali (Bass) at FORUM456 at Gallery 456 Soho, NY
"Animal Spirits" Opening installation performance, Choreographed by azumi O E for solo exhibition "VUELA VUELA" by Katja Loher at C24 gallery, NY
"Ghost Dance" Photograph project in Collaboration with Photographer James Carman
"When will the Sea Swallow the Land?" A site-specific installation by Katja Loher In the entranceway of SLS Brickell Hotel Grand Opening Special Performance, Miami, FL
"Animal Spirit" Choreography for Katja Loher's Opening for solo exhibition VUELA VUELA at C24 Gallery, NY
2015
"Picture perfect" performance art, directed by AYAKAMAY at Ideal Glass, NY
"EVERY DAY I AM NOT WATERBOARDED IS A GOOD DAY" Directed by Vangeline Theater at Triskelion Arts, NY
"Children of Wave" Directed by Stacy Smith with Fashion Designer Thaddeus O'Neil's AW 15 collection Fashion week NY at Milk Studio, NY
"Unconscious Education" performance art directed by AYAKAMAY at LICHT FELD Gallery (SCOPE art Fair), NY
"SARDINE" performance on Video Sculpture for Marck, NY
"Night of Thousand Stevie" Directed by Vangeline Theater at Irving Plaza, NY
"Très Mort –Tremor" Collaboration with Vangeline Theater with photographer Celeste Sloman at AN ARTURO VEGA PROJECT, NY
2014
"Fifth Amendment" Solo piece, Directed by Vangeline Theater at Triskelion Arts center NY
"Freedom" PS.122 Spring GALA opening piece Directed by Vangeline Theater at El Barrio Museum, NY
"wing" music video for Shahar Mintz
Phantogram "Fall in Love" music video: Directed by Timothy Saccenti, Choreograph by Vangeline Theater, NY
"Night of 1000 Stevie" Directed by Vangeline Theater at Irving Plaza, NY
"HOTDOGMuffins Parade" performance art piece directed by AYAKAMAY. Times Square, NY
"GOLD" Directed by Vangeline Theater at SPACE NYC, NY
"Umbrella la la la" Brooklyn Museum 'Performance combine' Directed by Vangeline Theater, Brooklyn Museum, NY
"beautiful 2 me" HEROEK music video
2013
"Spectral" Directed by Vangeline Theater at Triskelion Theater, NY
Opening performance for New York Fashion Week runway show "4 corners of circle" Designer Natsuko Kanno
"Belief" Man Made Sun (Music Video) Directed by Dana DISTORTION Yavin
"I KU SA" collaboration performance Directed by Fumio BOMBSUN Tashiro at Grand Central 100 years anniversary event JAPAN WEEK
"CRYSTAL" Night of 1000 Stevies Directed by Vangeline Theater at Highline Ballroom, NY
"Character portrait" (Dance Film) Directed by Bleue Liverpool
"Stray Asian People" Directed by Azumi Oe collaboration with Water Brain, Stacy Smith and Maiko Ikegaki at The RESOBOX, NY
"JOGYO" Live Performance, Collaboration with Pamela Herron at Nublu, NY
"NIBELUNGEN", "mosaic" Directed by Vangeline Theater at HOWL!Festival
"Feelin' Good" Directed by Vangeline Theater for PS.122 GALA at Museo del Barrio, NY
"mOtO-erectrOnic" Directed by Azumi Oe, collaboration with Omer Shemesh and Alexandra Costin at The Hive, NY
"Dr.fkk" at ROCK PONY Brooklyn, NY
"Visceral Vibration" collaboration with Khen Price (sound design) and Omer Goran (interactive video) at Paper factory Hotel, NY
"PASSAGE" Directed by Vangeline Theater in collaboration with video artist Michele Beck and Jorge Calvo at ISE Cultural Foundation, NY
"Facial_noise" Interactive musical performance piece, in collaboration with engineer Noa Dolberg and Khen Price. Accepted to NIME 2014 (UK)
2012
"Oracle & Enigma" Directed by Katsura Kan at Counter PULSE, San Francisco CA
"Crystal Duet" Directed by Katsura Kan at Solioquios y Dialogos Bailados Festival Mexico City (Mexico)
"UstUtsU" Solo at Solioquios y Dialogos Bailados Festival, San Miguel de Allende (Mexico)
"mOtO-erectrOnic #1" Directed by Azumi Oe collaboration with Omer Shemesh at Vaudeville Park, NY
"Raft of Medusa" by Vangeline Theater at HOWL! Festival, NY
"mOtO-erectrOnic #2" Directed by Azumi Oe collaboration with Omer Shemesh at Bushwick Open studio, NY
"Eurasia Butoh Festival" Tour with Katsura Kan assistant choreographer [Finland-Taiwan-Hong Kong-China-Russia]
"ObsidianismO" Solo at contemporary dance workshop festival, Beijing China
Eurasia Butoh Festival Interior States Theater, St.PetersBurg (Russia), Artesenal Center for Contemporary Arts, Nizhniy Novgorod (Russia) and Helsinki (Finland)
"Curious Fish" Directed by Katsura Kan: On and On Theater, Hong Kong
2011
"Oracle and Enigma" Directed by Katsura Kan at Espace Culturel Bertin Poiree, Paris, France
"Spring Rabbit- Senryu Butoh Performance" Directed by Katsura Kan and Senryu-sha Mimihime at a Foundation Boris Vian, Paris, France
"A Tale of Four Cities" Vangeline Theater at Wild Project, NY
"Cold Song" Directed by Vangeline Theater at HOWL Festival, NY
"Offering" Directed by Vangeline Theater at GAGA Arts Center, NY
"Jitensha" Collaboration with Omer Shemesh and Nick Tardif at 17 Frost, NY
"UtsUtsU" solo performance at Boulder BUTOH Festival, CO
"UtsUtsU" solo performance at Theater 80, NY
"Journey of Spirit" solo piece, directed and choreographed by Yukio Waguri at Boulder BUTOH Festival, CO
2010
" Cherry Blossom " Directed by Vangeline Theater Cherry Blossom Festival, Washington D.C
"Trash Skin" Solo piece performed and choreographed by Azumi Oe, at WOW Café Theatre, NY
"POST PRODUCTION PROTOTYPE" Directed by Azumi Oe performed by Azumi Oe and Zachary Kerstetter at WOW Café Theatre, NY
"Responsive Interface for Sound Composition and Dance-RISD_01" performed by Azumi Oe collaboration with software engineer Wolfgang Gil, at Levenson Recital Hall at Brooklyn College, NY
"Oracle and Enigma" Directed by Katsura Kan at Highways Performance Space, LA
"MOSAIC","BEAT GIRL" Vangeline Theater at HOWL! Festival, NY
"Adagio" Directed by Vangeline Theater at Theater 80, NY
"Butoh Blossom" Directed by Vangeline Theater at Abrons Arts Center, NY
2009
"Tropic of Cancer" Directed by Vangeline at Theater for New City, NY
"Fish Bowl" Performed by Vangeline Theater, The Field Artist Residents Winter Showcase at The kitchen, NY
"Last Train of Thought " Solo piece by Azumi Oe, Zachary Kerstetter (music) at New York Dance Qube, NY
"Beckett Butoh Notations 09" Directed by Katsura Kan at Abrons Arts Center, NY
"Fish Bowl" Directed by Vangeline Theater Lower East Side Festival of the Arts at Theater for New City
"BP" Solo piece Performed by Azumi Oe, Zachary Kerstetter (music), Solo Series #4 at New York Dance Qube, NY
"Fish Bowl " Performed by Vangeline Theater at The Avant-Garde Festival at Judson Memorial Church
"Stone Drummer" Performed by Azumi Oe, Teerawat Mulvilai, Melissa Lohman, Directed by Teerawat Mulvilai, Ang San SuuKyi Birthday Celebration at United Nations Plaza
"BP 2" Performed by Azumi Oe, Zachary Kerstetter (music) Choreographed by Azumi Oe, Mongrell Vaudeville at Freddy's Backroom, NY
"St. Louis Blues" Performed by Vangeline Theatre, Howl Festival, NY
" Hirame TE Karei " Directed by Azumi Oe Performed by Azumi Oe, Irem Calicusu NOwhere NOWhere at Laguardia Performing Arts Center, NY
"Will" solo, Mongrel Vaudeville at Freddy's Backroom, NY
"Freedom Tunnel" (Dance Film) Collaboration with Teerawat Mulvilai, Irem Calicusu, Video Exhibition Visual Voice from Five Asian Countries at Point-B, NY
"Flower Offering" Directed by Vangeline, Performed by Vangeline Theatre at United Nations Plaza
"Will " solo piece, Around the world in 24 HOURS at Lguardia Performing Arts Center, NY
"When we go to war " Tobias Froberg (Music Video) Directed by Petter Ringbom
"Firefly " and "Finale Solo" Directed by Vangeline Theater, Down and Dirty Festival at Dance Mission Theater, San Francisco, CA
"Offering" Directed by Vangeline Theater at Theater of New City, NY