On going Project with Composer Takuya Nakamura AKA SpaceTak with Various featured artists
Cosmic Rhythm spotlights moments shared consciousness between artists of contrasting mediums.
Simultaneous performances brew haunting, impromptu piano and synth music, merged with dazzling visual projections, all while dancer Azumi propels traditional Butoh movement to stir up this artistic concoction and mesmerize the audience.
This hour-long performance blends a unique mixture of visual, sonic, and physical magic, grounded in elements of Asiatic culture and noise music, that holds audiences spellbound in a moment of spontaneous creation. Presented by Takuya Nakamura, azumi OE, Marton "JUICE" Gabor, and Sienna Berritto, Cosmic Rhythm questions the everyday reality we wade through, and highlights an innate search for a new purpose.
National Sawdust June 30th 2019 /// Cosmic rhythm /// Takuya Nakamura (composer), Doug Wieselman (multi-instruments), Dan Rieser (Drums), azumi O E (Butoh), Stage Visualist Marton Daniel Gabor and Hair & Body Modification Risa Hirayama Produced by Sienna Berritto, Photography by William Semeraro
National Sawdust January 10th 2019 /// Cosmic rhythm /// Takuya Nakamura (composer), Rebekah Heller (bassoon), Laura Ortman (Violin), Marton Daniel Gabor (Stage Visual), azumi O E (Butoh), Risa Hirayama (Hair & Body Modification), Produced by Sienna Berritto and Photography by Michael Wu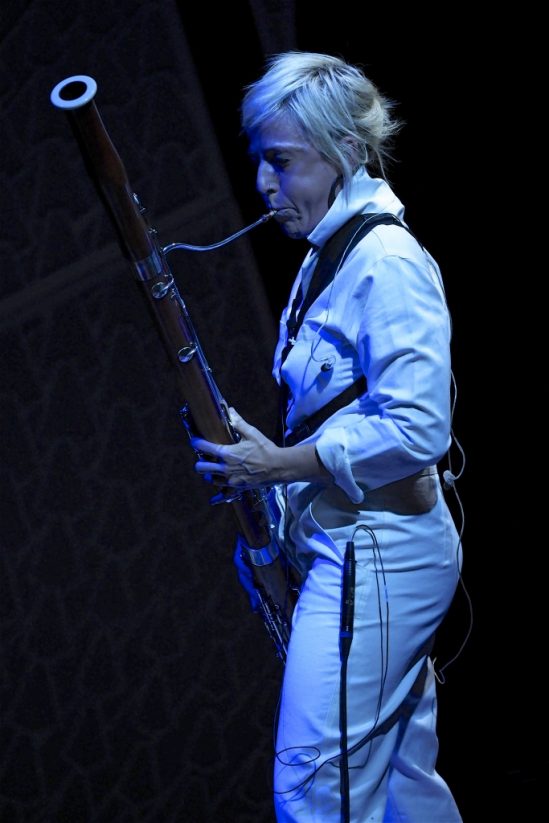 Cafe Capri April 11th 2018 /// Cosmic rhythm /// Takuya Nakamura (composer), azumi O E (Butoh), Stage Visualist Marton Daniel Gabor, Produced by Sienna Berritto, Photography by Hayato Takahashi